MADE IN SEATTLE: CHERDONNA SHINATRA

MADE IN SEATTLE: CHERDONNA SHINATRA
WORLD PREMIERE Clock that Mug or Dusted
JUNE 2-5 + 10-12 / 7:30PM
Velocity Founders Theater 1621 12th Ave
TICKETS $20 / $25 at the door / $18 Under 25 w/ ID / $17 MVP / $50 Patron
"An uncategorizable spectacle… Cherdonna is a genius. Cherdonna for president."
– Christopher Frizzelle, The Stranger
"Cherdonna was so uproariously hilarious, I literally almost died laughing…If you do not see a bright tunnel while watching Cherdonna perform, you're not human."
– Autumn Equinox-Weinstein
WORLD PREMIERE. Clock that Mug or Dusted is part two of a three part suite – one great, bright, brittle alltogetherness, brought to you by beloved drag/dance bio-fem icon Cherdonna Shinatra. In a homage to feminist performance artists, such as Janine Antoni and dance artist Anna Halprin, and their focus on the body as a canvas for social change, rebellion, community, and personal expansion–this performance will combine vintage feminist ideals with present day queer drag vision.
Cherdonna is an enterprise is concealing and revealing, re-interpreting and re-contextualizing femininity, and queerness. A visual art piece will be constructed using cake on canvas, the body as the brush or tool, and movement as the technique producing a take home work of art each night. This evening length version will mutate and mature transferring into the larger spectacle.
special events
WORKSHOP SERIES: CHERDONNASAYSYOUBEYOU
THURS MAY 19 + FRI MAY 20 / 3-6PM
Velocity: V2 1525 11th Ave
$45 full / $39 MVP / $30 one day drop in
RSVP appreciated, but walk-ups accepted
This workshop is centered around the philosophies of Cherdonna Shinatra.  Together, we'll bring out the bright lights of human existence, we'll be better together, we'll say yes, we'll excite our inner child, activate our aura, we'll be nice to ourselves, practice patience, use our voices, use our bodies, use our imaginations, we'll mobilize our witchiness, we'll use duration to achieve bliss, we'll sweat, laugh, we'll bridge our body as a vessel to our capacity as an energetic dynamism.
This workshop is open to all levels and is a movement based class.  Wear something comfortable to move in, comfortable sneakers and also a pair of shoes that make you feel fabulous – high heels or some kind of fancy footwear.
JOIN THE FACEBOOK EVENT FOR DETAILS + UPDATES >>
#cherdonnasaysyoubeyou
#CherdonnaSaysYouBeYou is Cherdonna's social media campaign for gender fluidity.
Stop by Velocity or Velocity: V2, pick a card, fill it out proclaiming your pronoun, and share it on social media with #CherdonnaSaysYouBeYou!

WATCH CHERDONNA'S INSTRUCTIONAL VIDEO >>
about the artist
Part bio drag queen, part contemporary dance, and part performance art, CHERDONNA SHINATRA is a persona and company that encompasses all works choreographed and performed by JODY KUEHNER.
Cherdonna is a 2015 Stranger Genius Award winner and 2010 Spotlight Award winner. Her choreography has been presented by every major contemporary dance venue in Seattle and WA, including On The Boards, Velocity Dance Center, Bumbershoot, CityArtsFest, Northwest Film Forum, Century Ballroom, and Methow Arts; in New York at Joyce SoHo, Risk/Reward in Portland OR, New Grounds Festival in Tampa FL, and the Meanings and Makings of Queer Dance conference Ann Arbor, MI. She frequently works with Dayna Hanson, Pat Graney and Mark Haim including Assistant Director for Hanson's Improvement Club, Gloria's Cause and The Clay Duke; performances in Graney's House of Mind and Haim's This Land is Your Land. These projects enjoyed tours throughout the U.S. and in Paris, France. Kuehner also assisted Graney's KTF Prison Project. From 2003-2009, Jody was a member of d9 Dance Collective performing works by Nugent & Matteson, Keith Johnson, Daniel Cheron, KT Niehoff, Amy O'Neal and others. From 2008-2013, as part of the The Cherdonna and Lou Show she produced five evening-length productions.
As Cherdonna, she currently performs regularly with drag-queen superstar BenDeLaCreme (RuPaul's Drag Race); and the award-winning international sensations Kitten LaRue and Lou Henry Hoover. She also perfoms with PaulaNow Productions and will be choreographing PaulaNow's latest extravaganza Wham Bam Glitter Glam, a live music caberet celebrating the glam rock era. Kuehner/Cherdonna was the recipient of a 2014 Velocity Dance Center Made In Seattle award—providing commissioning funds, fiscal sponsorship; development, dramaturgical and production support for a new work. Through Made in Seattle Velocity presented Kuehner's evening length Cherdonna: Worth My Salt (October 2014) with seven sold out performances. Cherdonna was also selected to participate in the PNW Dance Platform, The Award's Show and Northwest New Works Festival, Risk/Reward Festival, and Seattle International Dance Festival. Kuehner was Velocity's 2014 Artist in Residence, holds a residency with KT Neihoff's 10 Degrees; and has been granted residency support from On The Boards for her upcoming Cherdonna project.
Kuehner teaches Professional Contemporary Dance at Velocity, is Resident Choreographer for the LGBTQ youth choir Diverse Harmony, and has developed a Drag You workshop, which she has taught nationally for movers of all backgrounds and abilities.
LEARN MORE AT CHERDONNA.COM >>
INSIGHTS
READ Interview – "The Surprising Gender Bending of Drag Queen Cherdonna Shinatra." Rebecca Jacobsen, Portland Monthly. April 27, 2016.
LISTEN Interview – "Drag Through the Back Door." OPB, State of Wonder. April 23, 2016.
READ Feature – "Cherdonna, Winner of the 2015 Stranger Genius Award in Performance." Christopher Frizzelle, The Stranger. September 16, 2015.
READ Feature – "A New Start for Queer Art." The Spectator. October 1, 2014.
READ Feature – "The Inexplicable, Fascinating Cherdonna Shinatra, the Drag Queen Who's Not a Drag Queen." Christopher Frizzelle, The Stranger. September 10, 2014.
READ FEATURE – "Seattle Leads the Way in Gender Blurring." Wendy Perron, August 31, 2014.
PHOTOS — Cherdonna Was Not Photoshopped Falling into That Swimming Pool—She Really Fell In! Kelly O, The Stranger Slog, September 11, 2014.
press

READ Review – "Post Cherdonna Cherdonna." Kaitlin McCarthy, Seattle Dances, June 9, 2016.
READ Review – "Cherdonna Shinatra Takes a Leap." Leah Baltus, City Arts Magazine, June 8, 2016.

READ Preview – "Cherdonna Shinatra does it her way: 'Gender fluid' performer shakes off expectations." Jason Victor Serinus, The Seattle Times, June 2, 2016.
READ + WATCH Interview – "Cherdonna shows there's more than one way to be a woman." Marcie Sillman, KUOW. May 31, 2016.
READ Feature Listing – "Cheap Week: May 31-June 5: Cherdonna Shinatra gets outlandish at Velocity…" Seattle Met Magazine, May 31, 2016.
READ Feature Listing – "See It This Week: First Thursday, Cherdonna at Velocity, Sashay at Chop Suey." City Arts Magazine, May 31, 2016.
READ Feature Listing – "The 50 Best Things to Do in Seattle This Week." The Stranger. May 29, 2016.
"Clock that Mug or Dusted" is commissioned and produced by Velocity Dance Center's Made in Seattle new dance development program.
This presentation of "Clock that Mug or Dusted" is made possible thanks to the generous support of Velocity season sponsors: The Seattle Foundation, NEA Art Works, 4 Culture, Arts Fund, Jeremy Steward + Eric Hartmann, The Glenn H. Kawasaki Foundation, Case Van Rij, and Velocity supporters + individual donors.
This piece is also supported in part by The Seattle Office of Arts & Culture and the New England Foundation for the Arts.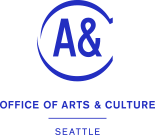 8,383 total views, 1 views today